How Does Acnecide Work?
If you're wondering how Acnecide works, we've taken two ingredients – benzoyl peroxide (BPO) and AC technology (acrylates copolymer) to form a combination that helps combat a culprit of acne – bacteria. This bacteria lives on the skin and normally, it lives peacefully off the natural occurring oils your body produces, breaking it down as food. But when there is an imbalance to this process and an oversupply of oil, these bacteria can infect hair follicles plugged up with excess oil, which is when acne begins to develop.
This is when our Acnecide Medicinal Treatments can help.The active ingredient benzoyl peroxide delivers antibacterial action which aims to kill off acne-causing bacteria that has multiplied. This helps removes dead skin cells that are clogging your pores which can reduce inflammation.Then, within the same treatment application, our AC technology acts like a sponge on your skin, absorbing excess oil. Once the excess oil is removed, the glycerin properties of the AC technology helps to reduce dryness and hydrate your skin.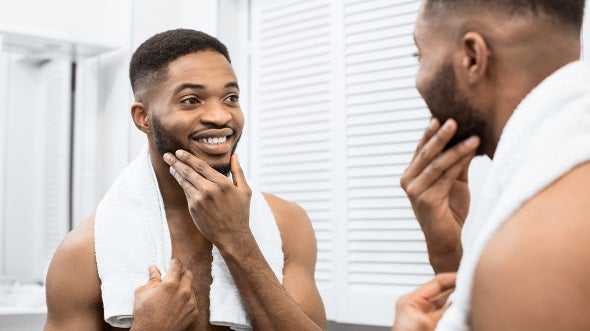 We've got you covered in three simple steps
The Acnecide ranges are a 360 degree experience.
We have our Medicinal and Daily Skincare ranges and when used together, they are specially formulated to cleanse, treat and moisturise spot-prone skin. So try following these steps to unlock your skin's potential.
1. Cleanse (Daily Cosmetic Skincare)
You might not be able to see it but our face is a magnet for unwanted dirt, oil, dead skin cells and bacteria. Regularly cleansing your face helps to prevent these impurities sticking around, leaving you with healthy skin.
So Acnecide Daily Cleanser has been developed with this in mind. It works to deeply cleanse the skin and leave it feeling super soft. Not only that, it reduces oil and shine without clogging any pores – so your skin will be left feeling cleansed and healthy in no time.
2. Treat (Medicinal Treatments)
Bacteria can be stubborn sometimes and likes to block your skin which can cause acne. So you may need help to remove it as part of your skincare routine. Our Face Gel and Face Wash are proven to kill spot causing bacteria by up to 95%. So follow the below steps and help take back control of your skin:
Face Gel

Step 1: Wash & dry face
Step 2: Apply gel
Step 3: Leave on
Face Wash
Step 1: Wet face
Step 2: Apply & wash
Step 3: Rinse & dry
3. Moisturise (Daily Cosmetic Skincare)
In general, moisturising everyday can reduce the chance of your face becoming extremely dry, oily or irritated. And when you are treating spots, your face can be even more sensitive. Which is why we've created Acnecide Daily Moisturiser with SPF 30 – as we said, we've got you covered!
It reduces skin roughness and dryness whilst providing 24 hour hydration. We've also chucked a cheeky SPF in there (don't worry - it won't clog your pores) to protect your skin from any harmful UV rays.
Easy!

GB-ACC-2000037 December 2020